In a few days, STILL CRAZY will be available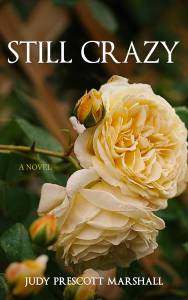 for pre-order and before you know it, the book will be in your hands!
I'm asking everyone to please support your local bookstores. First, it keeps our communities thriving. Personally, I need a strong showing in book store sales in order to reach my goal of becoming the best selling author.
Support Your Local Bookstore, I have created a list of bookstores in every state with addresses, phone numbers, and website links: https://docs.google.com/spreadsheets/d/1Og1G_Ja7uQltts-qLXa3qroBmhoTHoFXF7IEdOlD808/edit?ts=60008e0e#gid=0.
As a way of saying thank you – everyone who orders their copy (hardcover or eBook) between January 29th and April 29, 2021, will receive a signed bookplate, bookmark, and tea from me.
Simply fill out the form below and send it to me before May 30th and I will mail your book swag directly to you.
Due to Covid, I am not allowed to host book signing events at book stores, libraries, or anywhere else.
Love,
Judy
#BookFriendsForever #Bookplates #Bookmarks #Tea #StillCrazy #BookLife #JudyPrescottMarshall