In a few days, STILL CRAZY will be available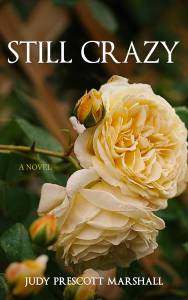 for pre-order and before you know it, the book will be in your hands!
I'm asking everyone to please support your local bookstores. First, it keeps our communities thriving. Personally, I need a strong showing in book store sales in order to reach my goal of becoming the best selling author.
Support Your Local Bookstore, I have created a list of bookstores in every state with addresses, phone numbers, and website links: https://docs.google.com/spreadsheets/d/1Og1G_Ja7uQltts-qLXa3qroBmhoTHoFXF7IEdOlD808/edit?ts=60008e0e#gid=0.
March:
12th NPR interview with Marshall Miles                                                                                                                                    30th Live with Lake City Books and Writer's Nook at 10 a.m. via Zoom
30th Still Crazy Book Birthday! LIVE via Facebook every hour starting at 1 p.m. to 7p.m. #Giveaways
April:
9th Book Launch Celebration with Garfield County Library 5 p.m. EST. (Colorado) Kick-off to National Library Week!
May:
4th Virtual Book Launch with Farmington Public Library 10 a.m. EST. (Maine)
As a way of saying thank you – everyone who orders their copy (hardcover or eBook) between January 29th and April 29, 2021, will receive a signed bookplate, bookmark, and tea from me.
Simply fill out the form below and send it to me before May 30th and I will mail your book swag directly to you.
Due to Covid, I am not allowed to host book signing events at book stores, libraries, or anywhere else.
Love,
Judy
#BookFriendsForever #Bookplates #Bookmarks #Tea #StillCrazy #BookLife #JudyPrescottMarshall